Luxury, style, ease, and enjoyment are synonymous with Vault's On Demand private jet charters, but we offer so much more than mere enjoyment, and a means to your final destination.
Learn about our perks and why our Vault family chooses to fly with us time and time again!
Lose Miles | Gain Time
There are only around 789 commercial airports in the United States. And being spread out across almost 3.8 million square miles in the US means there are a lot of locations that don't have an airport nearby. Or, what if your airport is across the city from your final destination? Now you have to consider busy city traffic even after you land at your 'destination'? Vault doesn't think that sounds very enjoyable, luxurious, or efficient.
Now compare this to over 13,000 private airports throughout the United States. That makes the 789 commercial airports look pretty thin. We make sure you land closer to your final, true destination, so you don't have to spend your time (vacation or work) continuing ground travel after you land.
Don't let your vacation, business meeting, or getaway get off to the wrong start (and wrong location) – fly with our On Demand private jet charters instead and get there faster.
Save HOURS with Every Flight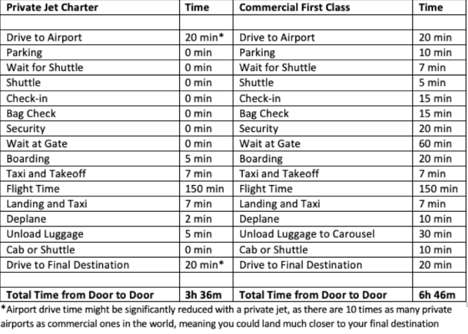 Safety & Comfort Go Hand in Hand with Vault
Vault Aviation exclusively charters aircraft that have been audited by The Aviation Research Group US ("ARGUS") or Wyvern, ensuring that you are safe from takeoff to touchdown.
Each operator we work with provides us with their latest records before each and every flight, to prove that they are cleared before they ever get on the runway. Additionally, prior to all flights, we request an ARGUS TripCHEQ as well, to make sure that not only the operator, but the aircraft, crew, and trip meet ARGUS' and our high standards as well.
Plus, safety isn't the only superior comfort you get on an On Demand private jet charter. The amenities of our private jet charters are far better than on commercial flights too.
Even first or business class does not give you the service and individualization that our On Demand Private jet charters do – because even first and business class have many other passengers that the stewards are focusing on. Plus, customization is nearly impossible on most commercial flights, regardless of their 'luxury' level.
On a private jet charter, you can customize your experience with the food, drinks, company, aircraft, entertainment, even bring your furry friend without all the fuss you'd have on a commercial airline.
Better Service, Higher Safety, More Options – The Choice is Simple
Not only are the amenities of our On Demand private jet charters better than commercial flights, but the services, flexibility, speed, locations, ease, and customization are worlds apart as well.
On an On Demand private jet charter, you can choose everything. Vault Aviation's commitment to our clients is one of the ways we are set apart in the industry. And that's why we work hard to make your flight seamless, enjoyable, fast, luxurious, and provide all of the amenities and options you want.
If you want to learn more about the Vault Family, our safety, or available aircraft, contact us today! Or check out our previous blog posts to see our favorite destinations, tips, history, and more!
Get your free quote today and Fly Like a Champion with Vault Aviation!