If you think travel is just Point A to Point B, then you are probably happy sitting in a middle seat for hours on end as your legs cramp. However, if you look at your travel time as a time to relax, work, or breathe for a moment, then you probably understand the value of private jet charters.
And though the perks of private flight are numerous, there are a few that stand out to our clients, and us as well!
Here are our top 5 perks of traveling with an On Demand Private Jet Charter – instead of with the other guys, whether that be commercial first-class, business class, or the dreaded economy class.
Ease
Vault Aviation works hard to make your flight fully seamless. Everything from your ground transportation to and from your plane to logistics and preferences, we take care of it all. All you have to do is let us know how we can help, and we'll take it from there.
Maybe you aren't actually sure how we can help, that's okay, we have years of experience and can make your travel easy and enjoyable regardless. We know a few of the common requests, and we will make sure you get the quality you expect from Vault.
The ability to work, meet, or relax, even while in flight, gives you the ability to get more done – whatever that might mean for you. Whether you are traveling for leisure or for work, begin in the air and get more out of your travel.
Time
The old adage 'time is money' seems truer in modern times than ever before. And by skipping the lines, waiting, delays, and cancelations that come with commercial airlines and airports, an On Demand private jet charter can save you multiple hours each way.
Your time is valuable, and you don't have time to wait around at check-in, security, on the runway, or at baggage. Instead of wasting those hours away, choose an On Demand private jet charter and fly faster instead.
Plus, not only are private airports and private jet charters faster in the air and faster at boarding, but they are also closer to your final destination, as there are many more private airports than commercial ones in the world. Get to the plane faster, fly faster, and land closer? Seems an easy choice to us.
Take a look at this example of the time you could save on a private jet charter vs commercial first class: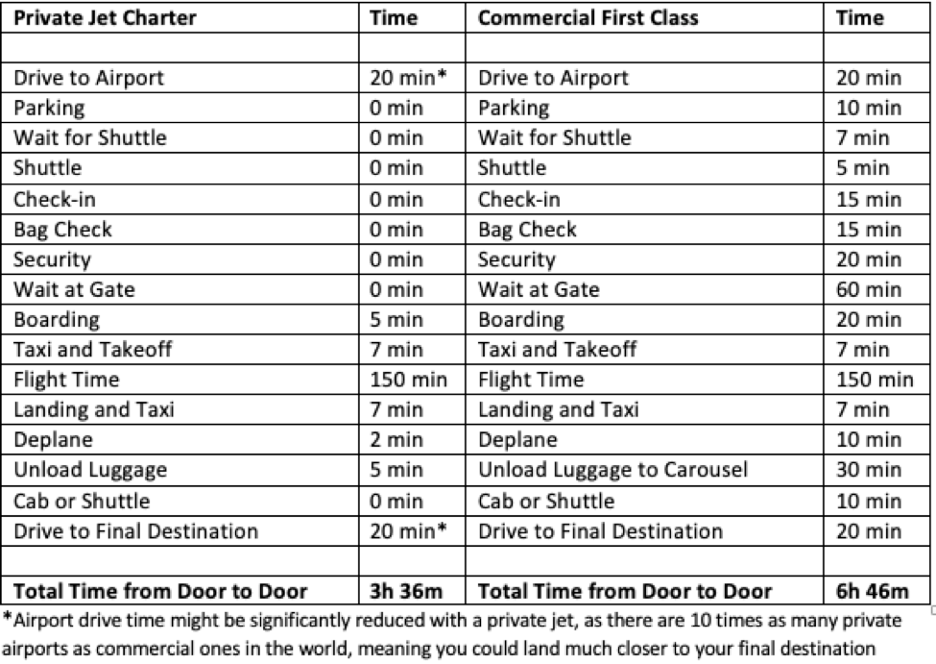 Privacy
Even beyond time-saving, hassle-saving, and location perks, the privacy that an On Demand private jet charter affords you as you fly is quite possibly the most important. You are able to be yourself, laugh and talk, work or relax, all without 300 other passengers around.
Additionally, the luxury and comfort of private aircrafts make you feel like you are in the privacy of your own home, not on a cramped commercial flight.
Think of your private aircraft as your penthouse in the sky. You can unwind, enjoy, and begin your trip on the right foot, whether that be for work or for leisure. Because whether you are flying for business or your vacation, privacy and comfort are always preferred.
Safety
Vault Aviation exclusively charters aircraft that have been audited by The Aviation Research Group US ("ARGUS") or Wyvern, ensuring that you are safe from takeoff to touchdown.
ARGUS audits operator maintenance records, flight histories, insurance coverage, frequency of inspections, as well as a program's ability to exceed FAA standards. This means that ARGUS is the top rank of safety for private air travel, which is why Vault measures each of our On Demand private jet charters against their standards.
Each operator we work with provides us with their latest records before each and every flight, to prove that they are cleared before they ever get on the runway. Additionally, prior to all flights, we request an ARGUS TripCHEQ as well, to make sure that not only the operator, but the aircraft, crew, and trip meet ARGUS' and our high standards as well.
Comfort
Not only are the actual amenities of private jet charters better than commercial flights, but the services, flexibility, and customization are worlds apart as well.
Even first or business class cannot give you the sky-high service or individualization that an On Demand Private jet charter can – because even in first or business class, the staff is still waiting on 10-30 others!
On a private jet charter, you can customize your experience with the food, drinks, company, aircraft, entertainment, or even bring along your furry friend without all the fuss of commercial airlines.
Our commitment to you and your comfort is one of the ways we are set apart in the industry. And that's why we work hard to make your flight seamless, enjoyable, fast, luxurious, and safe.