Vault Aviation knows that staying in touch is important, especially now as many of us are socially distancing ourselves from others. However, socially distancing doesn't mean we can't still be virtually close to those we care about.
Staying together – even if we can't gather traditionally – is important, which is why Vault has created our top list of tips and ideas for how you can still gather and stay close to those you care most about.
From parents or children, to friends and colleagues, let's all stay connected until we are able to travel again.
Stay Connected with an Online Cocktail Hour
Staying connected is easier now than ever before, as there are so many ways to see your friends and families, even if it is only virtual.
Do you have friends you usually meet up with for a cocktail hour or a night out? Do the same, but from the comfort of your own home! Dress up, pick up your favorite drink or ingredients on a grocery run, and schedule an online cocktail hour with your friends.
You can project your FaceTime onto your Apple TV if you have an iPhone or use an HDMI cable from your laptop to your TV to truly feel like you're all together.
And if you aren't a big drinker – that's fine, too! Have a dinner party, coffee date, anything! The point is to keep up with some of your normal scheduled events, just from home. And the main point of these online meetups, is the conversation with those you love.
Stay Playful with a Virtual Game Night
Some families are all together under one roof, which makes game night still a possibility, but for those who only have one or two people in their home, you might be missing game nights!
Luckily, with technology, you can have virtual game nights on many apps, just make sure you also have a way to see each other, like Zoom, Skype, Facetime, or HouseParty.
Here are some of the apps you can use for virtual game nights that have blown up in popularity in the past few weeks:
And of course, there are always the traditional board games! As long as you both have the game, you can set it up and play from afar with each other – just make sure you keep up with the turns, as you'll probably have to move your partner's pieces on your own game board to keep track.
Relax with a Together-from-Afar Movie Night
Movie nights are a great way to feel together, even if you aren't. Pop some popcorn, call a friend, start your movies simultaneously, and watch together.
If it sounds difficult to start your show or movie at the exact same time, no worries! If you can't find any movies that both you and your friends own, no worries! Netflix has created Netflix Party to help out with this.
Here's how it works: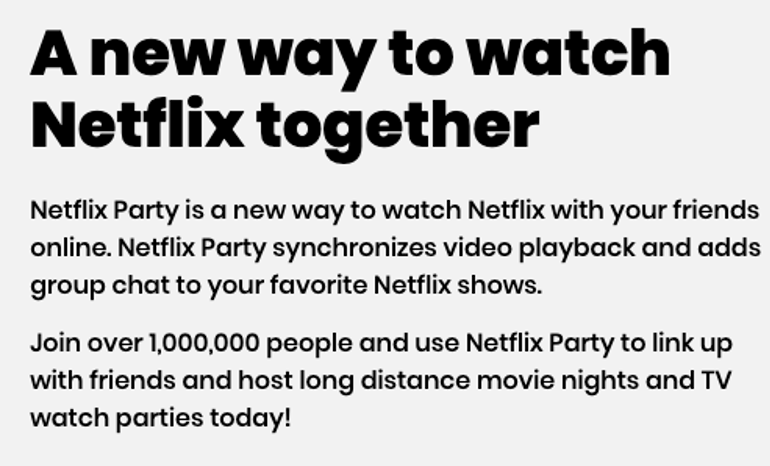 Skype, Call, Zoom – Just Talk to Each Other
The whole point of any and all of these options is to stay connected and close to those you love. So, get creative! Have dinners together, workout together, watch shows or have a drink together, play a board game or just call to say 'hi'.
It doesn't matter what we do, as long as we do it together – virtually.
Vault Aviation is Here to Help
Though most leisure travel is recommended to be paused, there are still many who need to travel for essential reasons like getting to their family, performing work functions, medical travel, and other essential needs.
Vault Aviation is still here for you, and still able to get you where you need to go with safety, comfort, and speed.
Contact Vault Aviation if you need an On Demand private jet charter and see how we can help you get where you need to go – faster.
We're all in this together, and we'll be here for you every step of the way. We are looking forward to when we can all travel again for any reason, but until then, stay safe.