Travel isn't just getting from Point A to Point B – if it was, then that dreaded middle seat, long layover, or redeye flight wouldn't matter. Instead, travel is supposed to be enjoyable, especially when it is for a vacation! That is why we recommend private jet charters for your next vacation – and the season for getaways and taking some time off is officially here on the heels of Spring!
Learn more about why people are choosing to fly privately with On Demand jet charters and Vault Aviation!
Perks of Traveling with On Demand Private Jet Charters
Superior Comfort
Let's talk amenities.
The experience of flying on an On Demand private jet charter is far superior to commercial flights, of course, but the services, flexibility, and customization are worlds apart as well.
"Even first or business class cannot give you the sky-high service and individualization that our On Demand Private jet charters can – because even in first or business class, the staff is still waiting on 10-30 others!"
On our private jet charters, you can customize your experience with the food, drink, company, plane, entertainment, luggage, and even pets without all the fuss of commercial airlines.
Time-Saving Every Step of Your Travel
Time is money, so why not skip the long lines, waits, delays, boarding, deplaning, and cancelations that come with commercial airlines and those massive airports. Instead, consider all the time you save with an On Demand private jet charter. And we aren't talking about saving a few minutes here or there, we are talking about hours, multiple hours.
Take a look at this example of the time you could save on an On Demand private jet charter vs first-class commercial flight: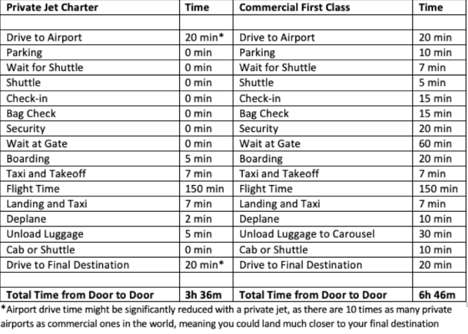 Safety is Our Top Priority
Vault Aviation exclusively charters aircraft that have been audited by The Aviation Research Group US ("ARGUS") or Wyvern, ensuring that you are safe from takeoff to touchdown.
Each operator we work with provides us with their latest records before each and every flight, to prove that they are cleared before they ever get on the runway. Additionally, prior to all flights, we request an ARGUS TripCHEQ as well, to make sure that not only the operator, but the aircraft, crew, and trip meet ARGUS' and our high standards as well.
Get Better Value with a Private Jet Charter Broker
Vault Aviation is a private jet charter brokerage. This means we do not own or operate the aircraft that we charter. Instead, Vault has an extensive network of over 5,000 safety-audited aircraft around the world.
So, instead of us owning the private jet charters you fly on and therefore having our priorities split between you and our own profits, we only focus on you and your trip, your time, and your enjoyment. We aren't trying to book one of our jets back to back to maximize our profits, instead, we search out the best deal for you, ensuring that you are our priority, and leveraging our many connections to find you the perfect private jet charter for your needs.
Fly Like a Champion on an On Demand Private Jet Charter With Vault Aviation
Vault Aviation isn't just another private jet charter brokerage or another private jet charter company in general. We are transparent and treat you like friends and family, caring about safety, value, and experience above all else.
We are the type of On Demand private jet charter you want to work with, because we are brokers (not owners looking out for our own bottom line and jet use) and we are well-connected, making your flights seamless and taking care of every aspect for you.
We have been recognized again and again for our service, our safety, and the ease in which we get you to your destination – and those are the reasons we are your premier On Demand private jet charter brokers.
Contact Vault today & See for Yourself by Flying Like a Champion The Next Time You Need a Private Jet Charter Anywhere in the US!