Flying private isn't just for celebrities and athletes – in fact, the most common flyer with the highest frequency of private jet charter flights per year is actually the business professional. But why are business professionals flying privately when they could be flying business class or using reward programs through commercial airlines?
It's simple, really, let's go over the 5 reasons that business professionals are choosing to fly with private jet charters instead of business or first class on commercial airlines.
It Isn't Just Point A to Point B
A fine option for a business professional in New York who has to fly to San Francisco twice a month is business or first class – but how many professionals fit that narrow route? Not nearly as many as we might think.
It is more likely that a C-suite individual would live in New York City, but need to fly to Maine for a meeting, New York State to oversee operations, Oklahoma to connect with their pipeline team, and California to meet with new acquisitions – all within a month (or every month).
Now, which do you think is the best option? Flying from one to the next to the next, crisscrossing the US multiple times on a large commercial flight, flying from crowded airport to crowded airport, and dealing with delays, lines, and inconvenient hours that don't match with your schedule? Or flying on a private jet charter that is waiting for you on a private runway whenever you need it wherever you need it– no delays, cancelations, and no takeoff-time limitations.
The choice is easy.
Time is Money
Speaking of the lines, waiting, delays, and cancelations of commercial airlines and airports, a private jet charter can save you multiple hours per trip. Vault Aviation knows that your time is valuable, and you don't have time to wait to check in, wait at security, wait to board, takeoff, disembark, pick up bags, etc.
Instead of wasting hours of your precious time, consider a private jet charter and fly faster and seamlessly instead.
Take a look at this typical example of the time you could be saving on a private jet charter: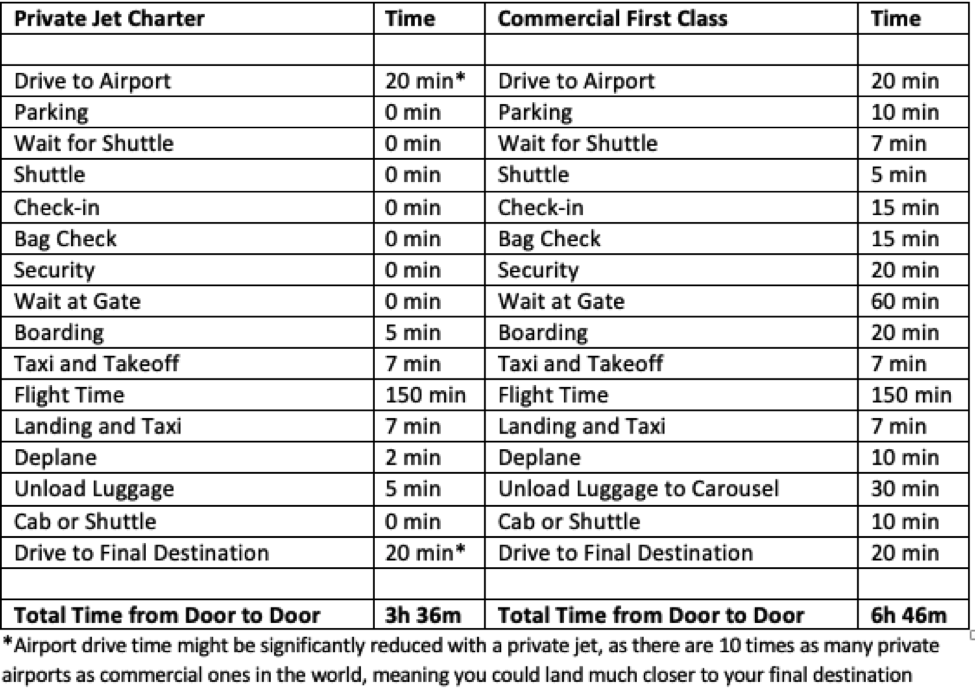 Three and a half hours versus 6 and three quarters? Again, the choice is easy.
Larger Groups Require Better Options
If it is just you flying, or just one member of your C-suite, and it is a straight A-to-B flight pattern, then maybe business or first class will do – however, we've seen that this is rarely the case. More likely, 3-7 business professionals, CEOs, or C-suite individuals will need to fly in unison at times, splitting off and coming together again as they each visit their own properties, projects, and teams.
This means private jet charters, or a fleet of private jet charters, gives your group much more freedom, as well as speed, convenience, and luxury.
Image is Everything
This is an obvious but important point – image matters.
If you want to show your business in a successful light or show up as one of the forerunners in your industry, then a private jet charter is a great investment in your own image and success. Think of how you view personal and professional image in your own meetings. If someone arrives and seems flustered, suit wrinkled, and wind wild hair, what do you think of them, their management, and their company?
Being visually organized, put together, and calm can support your company as much as your pitch. And what better way to arrive, padding your image and keeping you and your team professional, composed, and prepared, than with a private jet charter?
Work & Relax in the Air
Need to start a meeting early or debrief your team afterward? You can continue your work in the air (or relax after a long conference or speaking engagement) even before you arrive at your final destination or home.
The ability to work or meet, even while in flight, gives our business professionals a great deal of value, as they often need to be connected at all times – even when they are 40,000 feet up.
Work life is changing and with our in-flight WiFi, meeting rooms, and both formal and informal seating areas, one of our private jet charters is the best way to get a little extra work in or unwind with your team after a hard day's work.
Fly with Vault Aviation & Impress Your Clients, Competition, & Customers!
If flying with a private jet charter sounds like the image, time-saving, and flexible option for you – then contact Vault Aviation for a quote, more information on our On Demand style, or to learn more about our company, story, and how we give back.
Fly like a champion on your next business trip and join the Vault family.