Aircraft Safety Auditing
Vault Aviation only charters aircraft that have been audited by The Aviation Research Group/US ("ARGUS") or Wyvern. ARGUS audits an operator's maintenance records, flight history, insurance coverage, the frequency of aircraft inspections, and a program's ability to meet or exceed FAA standards. Other considerations include pilot training, flight hours, and pilot medical records.
For operators, ARGUS has a four-tier rating system: (1) Does Not Qualify, (2) Gold, (3) Gold Plus, and (4) Platinum. All ARGUS-rated operators must provide the auditing firm with its latest records to ensure that they're cleared before each flight. Prior to any flight, Vault Aviation can request an ARGUS TripCHEQ to ensure that the aircraft, crew, and trip meet the ARGUS standards.
Pilot Safety and Credentials
All of the aircraft that Vault Aviation charters must be piloted by 2 highly experienced pilots: a Pilot-In-Command (PIC) and Second-In-Command (SIC). And while the operators ARGUS Rating is highly important to us, we go one step further to ensure our client's safety.
Vault Aviation also references Wyvern Safety Ratings as an additional layer of safety. Independent of ARGUS, Wyvern allows us to perform a second audit on the operator, the aircraft, and the pilots by running a Pilot & Aircraft Safety Survey ("PASS") report. The "PASS" report details everything from pilot hours to medical certifications. The following information is included in a "PASS" report:
Qualification
Verification that a charter operator holds a current Air Operating Certificate
Verification
Verification that the aircraft being chartered is listed on the air carrier's Operations Specifications
Confirmation
Confirmation of current insurance for the aircraft
Safety
Confirmation that each crew member's experience meets a specific safety standard
Up to Date
Confirmation that each crew member's medical and license information is current
Approval
Confirmation that the operator has Civil Aviation Authority approval for international operations at chosen locations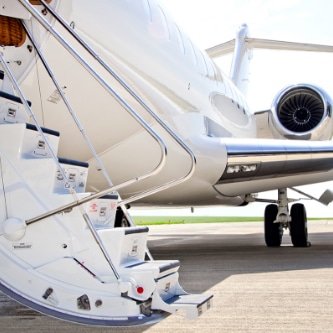 Vault Aviation's Role as A Broker
Vault Aviation acts as an agent on behalf of its clients to arrange their charter flights. Vault's loyalty is 100% with our clients, and we have no formal arrangements with any individual aircraft operators. Therefore, there is no conflict of interest or outside pressure, nor do we have any incentive to put a Vault client on a specific plane from a specific operator. We are always working exclusively for each client's benefit and we will never compromise on quality or safety.