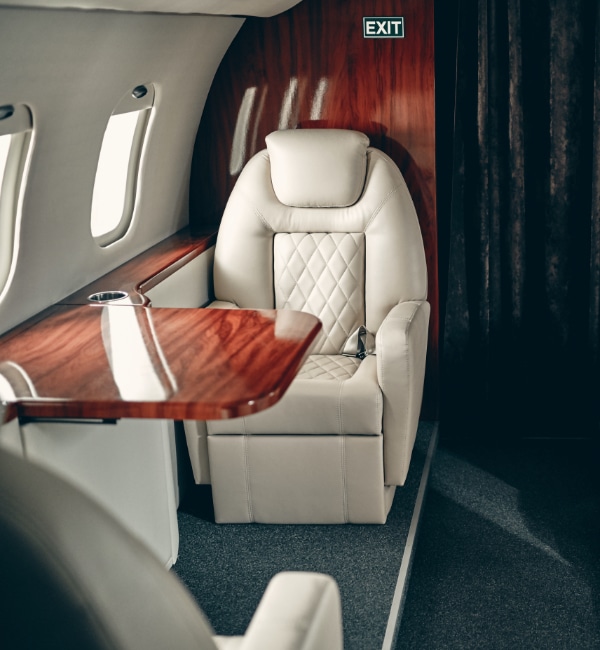 Frequently Asked Questions
Have a Question?
Take a look through our FAQs below for answers to some of our most frequently asked questions. Have a question that's not covered in our FAQ? Call 1-866-325-4569 or email fly@vaultjet.com to have all of your questions answered.
How much does it cost?
The cost of a charter flight is determined by three main variables: (1) the size and associated hourly rate of the aircraft, (2) the length of the flight (total flight hours) and (3) the duration length of the trip (number of days). The hourly rate of an aircraft is determined by dozens of different variables. Generally, a newer plane will have a higher hourly rate than an older plane and a bigger plane will have a higher hourly rate than a smaller plane. The following prices are a general approximation of hourly costs for each class or size of private aircraft:
Light Jet | 4-7 Passengers | $4,500 – $6,500/hr
Midsize Jet | 7-8 Passengers | $5,500 – $8,000/hr
Super Midsize Jet | 8-9 Passengers | $6,500 – $9,500/hr
Heavy Cabin Jet | 10-13 Passengers | $7,500 – $13,500/hr
The lower end of the range of the hourly rates would apply to clean Round Trip flights whereas the higher end of the range would apply to One-Way flights.
What Is Included In The Price?
Vault Aviation's All-Inclusive, or "All-In", quotes are inclusive of the (1) aircraft cost, (2) pilot/crew fees, (3) fuel surcharge and (4) landing fees. For heavy cabin aircraft which include a flight attendant, the cost will also be factored into the quote.
All-In prices will also include the 7.5% Federal Excise Tax and the per passenger domestic segment fee. For international flights – all international customs and handling fees will be included in the price along with the per passenger international segment fee.
Quotes do not include incidental charges, such as catering and ground transportation. Vault Aviation will invoice you for any catering or ground transportation charges (at cost) after the trip has concluded. The only other additional charges which may occur would be de-icing fees for flights out of very cold climates, and international Wi-Fi charges if a client elects to use wifi overseas. Vault does everything it can to minimize these additional charges and will often split the cost or comp the cost for its clients.
How Do I Pay?
The majority of Vault Aviation's client prefer to pay via bank wire transfer. We also accept all major credit cards. Vault requires payment in full 72-hours prior to the date of departure. If your trip is last minute, Vault Aviation can place a hold on your credit card for the flight and will allow you to wire the funds after the trip. Vault will also hold funds on file for frequent flyers and apply the funds to each trip as they happen.
Who Owns the Planes and Employs the Pilots?
Vault Aviation does not own or operate any aircraft. We are a private jet charter brokerage that acts as an agent to negotiate and facilitate each flight on behalf of our clients. Vault Aviation sources aircraft from a select network of operators which comply with all FAA mandates, have a Part 135 Charter Certificate and meet ARGUS and/or Wyvern safety standards. The aircraft operators and flight crews maintain operational control of flights at all times. The operators employ the pilots and provide the aircraft maintenance. Upon request, Vault can generate reports that detail pilot credentials and verify aircraft maintenance records.
Is there security/TSA screening?
The answer is no. One of the major benefits of flying private is not having to deal with the hassles of TSA security screenings. When you arrive at the airport, your pilots will simply check your photo ID and verify that you are on the passenger manifest for the flight. No need to worry about "random" bag checks or pat downs. For international flights, customs is a much easier process as well. In some locations, a customs agent will come on board your plane and clear you and your passengers immediately. At other locations, you will be escorted to a private customs facility for expedited screening.
Can I get a rental car at a private airport?
At almost all airports, Vault can arrange for a rental car to be waiting planeside for you. Usually you will just be required to fill out a basic rental contract and you will be on your way. If you flew in commercial and got your rental car from the main airport, Vault can almost always arrange for you to just drop the car off at the FBO and leave the keys with the front desk and have the rental company pick up the car for you.
What is an "FBO"?
FBO stands for Fixed Base Operator, which is the term used for the private airport facility where your plane will depart. Popular FBO's include Signature Flight Support and Atlantic Aviation. So when we tell you that your plane departs out of Signature or Atlantic, those are the FBO's.